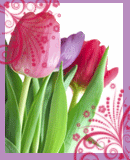 First off, let me wish all of you moms and future moms out there a very Happy Mother's Day.
I will be getting up with my family to make the early service at church, then we're off to my mother in law's for lunch. That should be fun. I've been blessed with a wonderful Step-mom, Linda, and mother-in-law, Jane. I'm working on Sunday evening from 11pm – 7am for a friend who is taking the night off. I do hope she has a beautiful time with her little one and hubby, getting to sleep at night like a normal person.
If you are planning to make a special Mother's Day post, please make sure and head over to Angie's at The Knightly News and join the fun! She is hosting a mother's day meme that you must join. That way I can read about your special day and the very special mother who raised you up.
The picture below was taken in 1979, after the birth of my baby brother George. I'm the oldest with the hippy-dippy long hair. My sister Jennifer has a Mork from Ork shirt on…remember those? And my sister Amy is just waiting to hold her baby brother. There are lots of things I don't remember, but that day I remember clearly. Thankfully, I have my own children to keep my mind off of the sadness I can feel on Mother's Day when I think of her. She died from cancer nine years ago, at the age of 54. So, before I hit the hay, I will give you five things I miss about my mother.
1. I miss calling my mom about the trivial and laughing about the ridiculous.
2. I miss sharing news about my kids with her. She would have loved that Meg received two scholarships at her award banquet last week.
3. I miss smelling vanilla candles and Jean Nate. Quite a delicious combination!
4. I miss talking with her about family and the hurts I know she would make better.
5. I miss hearing her joyful "Hi Honey" when I walked in her house for a visit.
For those of you who have your moms on this side of Heaven…cherish every moment. And for those of you who have little ones to hug tight….cherish every moment.
Motherhood is a precious and miraculous gift from God.